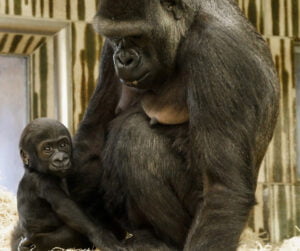 I could watch this all day. This incredible video from the Cincinnati Zoo captures an intimate moment of bonding between a grandmother and granddaughter. The two delight in each other, rubbing their faces, lips, fingers and noses together. I am struck by how much I recognize myself here, how I rubbed my nose in my babies' tummies, how I knew just the right amount of tickle to give to keep the play going, how to stop before the stimulation overwhelmed them. At some point here the baby throws back her arms as laughter overtakes her, but (and I love this) her Grandmother does not push her over the edge into agitation. Tht two are perfectly in sync, biologically and psychologically. They are in attachment flow. They are at the center of love.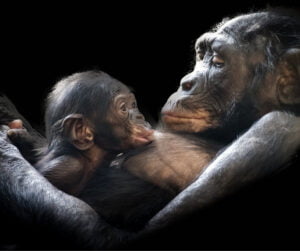 Primate attachments like this drop me into a creative place as rich as Alice's wonderland. It has something to do with how they provide me a vision of myself that is both deeply familiar and still strange. My skin is not covered in dark fur though the skin along the flat of my chest looks the same as hers. My lips pull back in a smile just like hers. I imagine the delicate bird-boned chest of baby Lana would feel just like my baby's, sturdy and fragile over the pulsing tiny heart. The unique capacity of the primate to be like and unlike me– at the same moment intimate and strange– is the feeling of the uncanny or of the dream state, a vision of my inner life refracted back to me in a new form.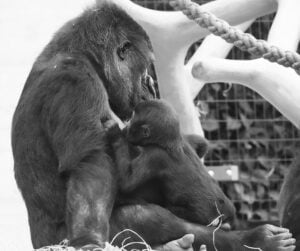 Uncanny states– of dreaming or watching this video of attachment—draw me to see connections my ordinary mind refuses. Like the ancient past of our shared DNA, the instinctive way we rub our faces in soft tummies, the way attachment can be a smell and our first form of play. This uncanny similarity led me into the world of a primate lab, one of the first of two major labs in Madison, WI (Wisconsin National Primate Lab and University of Wisconsin Primate Research Center), where baby monkeys lived and loved and taught a guy named Harry Harlow the true and enduring nature of love. As I worked through the life and times of my own inner monkey baby in the writing of that novel, I came to see that we all—primates and non-human primates alike– want the same thing: to live in the eyes of a love like that.
Adorable video of Lana playing with her granddaughter, Amali at the Cincinnati Zoo.