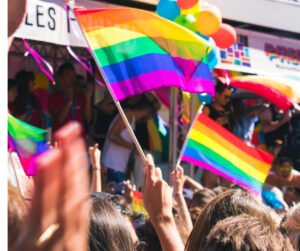 In America, the first gay or "homophile" organizations began in the the early 1950s, the most famous being the Mattachine Society in Los Angeles and the Daughters of Bilitis in San Francisco. These groups began the process of normalizing and then politicizing homosexual identities, eventually taking back the word "queer" as a label of strength and resiliency. Transgender people, often the most visible to outsiders as drag queens, led the first protests in the United States. In August 1966, a group of transgender women and drag queens resisted police harassment at Compton's Cafeteria in San Francisco's Tenderloin district. Compton's was one of the few places where trans women—some of whom spend their evenings hustling—could congregate publicly, since they were unwanted in gay bars. The riot at Compton's Cafeteria was the first recorded LGBTQ-related riot in the United States.
The more historically famous uprising came three years later at the Stonewall Inn in New York City's Greenwich Village. The Stonewall Inn was a favorite place for drag queens, transgender people, gay men, butch and femme lesbians, male prostitutes, and homeless youth. Police raids of gay-friendly establishments led to complicated relations between Stonewall patrons and the police, who alternately extorted them and raided them. On the night of June 28,1969, a crowd of patrons resisted an unscheduled police raid, and the situation escalated to a street riot during which angry rioters shouted "gay power!" for perhaps the first time. The first Gay Pride marches were held on June 28, 1970 to commemorate the Stonewall riots. Gay pride parades brought together diverse communities of gay men, lesbian women, transgender people, and self-defined queer or non-binary people, who together formed a loose and at time uncomfortable coalition to bring about greater acceptance.
Sao Paulo held the record for hosting the largest parade in 2011 (4,000,000) and New York City 5,000,000 in 2019.
Excerpt from Citizen Woman: An Illustrated History of the Women's Movement, by Jane Gerhard and Dan Tucker (Prestel 2020).
Did you or your parents or aunt and uncles or heck, even grandparents ever participate in a gay pride parade? Hit me up with their stories!